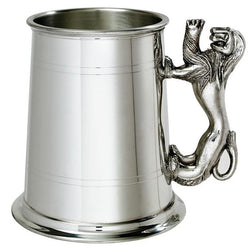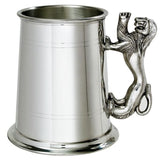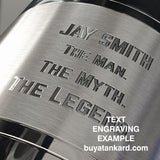 1 Pint Double Lines Lion Handle Pewter Tankard
Ships same day with engraving if ordered by 1pm FREE Standard UK delivery
Is this a Scottish Lion Rampant, a British Rugby Lion or one of the Three Lions of English football? You choose! You can identify the lion by adding an engraved image or text on the body of the tankard. Engraving can celebrate any event or success.
The area between the pairs of lines is where your text or logo would look best, and usually it would be centred vertically, according to how many lines of text you want to see.
The tapered shape of this tankard looks good on any shelf. A surprising number of people give tankards as collectables rather than drinking vessels. But this lion will sit comfortably in your hand if you want to taste your favourite brew in this pint tankard. Just remember to wash it out in warm water after use, and dry it carefully, wiping only in the direction of the lines, and never rubbing in circles.
1 Pint Double Lines Lion Handle Pewter Tankard
"Quite surprised at the outcome of the finished outcome of the tankard and the way I was contacted with what the finished product would look like before payment "
1 Pint Double Lines Lion Handle Pewter Tankard
"Really good quality tankard and it looks great with the engraving."