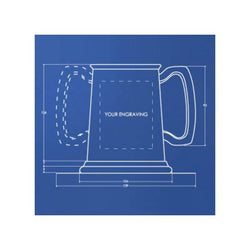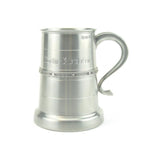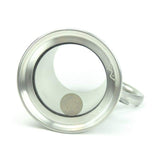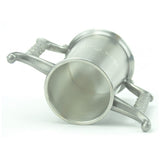 Product Description
There are ten stages in all to designing your tankard. With each click you see which options are available at that stage. Start by clicking on each of the Tankard Shapes just to see how the choices of Tankard Style in Step 2 change. You'll see that at each stage, selecting one particular feature affects the choices at the next stage. Follow this procedure throughout the stages as you see which choices are available.
At the next stage, Tankard Trim, you can add Brass Trim to give a touch of gold contrast colour to the top of your tankard.
Follow this with a choice of Tankard Handle – and yes, you can have up to four handles on one tankard, each one a different design. We're not sure why you'd want four handles on a tankard, but it's up to you! Or you can have a tankard with no handle at all. That's what customising your design means – you can be original, without any 'oh, you can't have that!'.
Tankard Base choice is next. Some tankards can have a glass base. If you choose a glass bottom for your tankard, you then have the option to have a real shilling trapped inside the glass. This custom dates back to the 18th century. If a young man went drinking in a tavern near the docks, when he got to the bottom of his drink, he might find that he had unwittingly 'taken the King's shilling'. He would then be marched off to the navy by the waiting press gangs. Landlords then began to use glass bottom tankards so that their customers could be reassured that they would see any unwelcome objects slipped into their ale.
Your design is now almost completed. Choosing the Tankard Finish for the pewter is next. The Standard Finish is polished and makes your tankard shiny like silver. The alternative is Satin Finish, also known as antique finish, as it gives your tankard the look of pewter from bygone days.
Your last decision depends on whether your design can have a lid, and if so, your choices will appear here in Tankard Lid choices. As the lids fit the tankards properly, The 'Small' in the Small Lid refers to the depth of the lid, not the diameter, and so the Big Lid is the same diameter, but is deeper.
If you are designing your tankard for a gift, you may want to add a Tankard Presentation Box at this point. Of course, all our tankards are delivered in a box anyway, so you only need the presentation box if you want the tankard to be displayed, or you're presenting it as a special gift.
Our full Text and Image Engraving options are also available on our Custom Tankard Builder.
We're sure you have had a great time designing your own tankard. Now those clever pewter craftsmen in Sheffield will produce it for you and it will be dispatched to you in around 5 – 7 working days (plus a couple more if you're having it engraved). Isn't that fantastic!
Features
1 pint capacity

Handmade from lead-free pewter by renowned pewter manufacturers to the highest standards

Fully customisable tankard

Dimensions: Height: 125mm, Diameter (base): 115mm

Comes boxed with an optional presentation box

This tankard is made to an accurate size which allows it to carry an official government stamp for use in licensed premises. Additional costs and restrictions for this apply please contact us for further details.

Made in Sheffield, UK
Engraving
Engraved with our computer controlled diamond tipped engraving machine

Good choice of fonts for text engraving, or supply your own in .ttf format

Personal logos can be engraved if you send us suitably clear graphics

Read full details on our Engraving Information page
Product Specifications
| | |
| --- | --- |
| SKU | WEN-CTB |
| Weight | No |
| Dimensions (Approx) | No |
| Capacity | No |