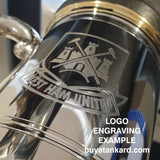 1 Pint Double Lines Fancy Handle Pewter Tankard
Ships same day with engraving if ordered by 1pm FREE Standard UK delivery
Product Description
The fancy handle has a traditional appearance, perhaps because it reminds us of a time when the handcrafted design was the norm. Tankards are still made by craftsmen in Sheffield, using many traditional skills and techniques.
When you need a present and you want to personalize it, you can add engraving to a plain tankard such as this one. This makes it unique and a gift which will continue to be a happy reminder of the giver.
Great
This item was completed and delivered in great time. Thanks
Excellent
Excellent tankards and first rate service.
Tankard review
Excellent service ordered lunchtime and delivered the following morning.
Tankards were good quality. Thank you.
David was good
Buy a tankard should buy David something to fill a tankard
1 Pint Double Lines Fancy Handle Pewter Tankard
"I bought ten of these for a club presentation, in the Antique finish. Couldn't be happier with the quality of the tankards, and the communication with David throughout was great, they even send proofs of the engraving so you can give it the final \"ok\" before they go ahead and engrave. Engraving is really high quality. Absolute pleasure to deal with."