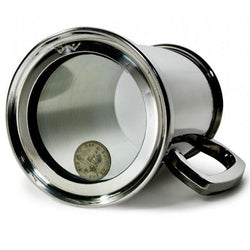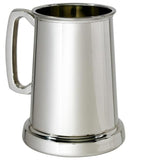 1 Pint King's Shilling Pewter Tankard With Glass Bottom
Availability: Out Of Stock
Ships same day with engraving if ordered by 1pm FREE Standard UK delivery
Product Description
Taking the King's shilling is an expression which means to enlist in the armed forces. Some new recruits still use this expression today, but say 'take the Queens' shilling. It started long ago, during the time of the Napoleonic War, when there was a great need to increase the strength of the navy. Young men were not rushing to join the navy even though the incentive was a shilling. There were 20 shillings in a pound and so this is now like a 5p piece. But at the time, it was the equivalent of maybe a week's pay, which was quite a lot if you were in a low paid job.
When the navy recruiting officers could not get enough men to enlist, it is said that they used to get the young men drunk. They would then slip a shilling into their pint of ale, and when the poor young man finished his drink he had no option but to go to the navy. He could protest but the court would see accepting the King's shilling as evidence, even if he had been drunk.
This was clearly not good for business in the ale houses of the time and so the landlords asked the pewterers to make tankards with a glass bottom. This would let drinkers see that there was no shilling in the bottom of their tankard, and would give customers confidence to drink at that pub.
This tankard has a glass bottom and has a genuine shilling sealed inside it. As our coins change with each monarch, your particular shilling may have the Queen's head, but the reference is the same. It is the perfect present for any young man joining the armed forces. And a good time to give it might be after his passing out parade.
But you don't need to have military connections to enjoy the reference of the king's shilling tankard. Anyone can appreciate it and tell the story of the king's shilling to others, especially visitors to your pub. They may not believe you, of course, but that's the best part of a good yarn.
Executive product
Was exactly how we wanted it, great service excellent quality and great communication with the team, would definitely use again. You won't be dissapointed with this product
Great product and service!
Website was quick. & the filter and sort options made it easy to find what It was looking for.
I had a couple of questions and these were answered really quickly.
Product was despatched something like the day after I placed the order, and it was exactly as described.
Lovely gift
Quality tankard with clear personalised engraving made for a special gift.
Excellent Product
Purchased as a leaving gift for someone at work, this is a really great product. The engraving was spot on and between ordering and delivery was really quick. Altogether, a great purchase.