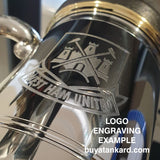 1 Pint Double Lines Pewter Tankard
Ships same day with engraving if ordered by 1pm FREE UK Delivery
Product Description
A timeless classic design, perfect for you to add your own personal engraved greeting. Holds one pint and is hand made in the UK using traditional methods and tools. Available with a polished, antique or satin finish.
This design is available in a ½ pint size too. You could have a matching pair for different drinks, or different drinkers.
Your tankard will be well wrapped and is delivered in a plain cardboard box. However, if it's for a very special present, you may want to add an optional presentation box. 
1 Pint Double Lines Pewter Tankard
Great service, excellent quality
Excellent quality tankard with a prompt service. Had two engraved tankards made up. They were dispatched quickly and have been great presents.
Excellent Customer Service
From the time I ordered the tankards to the time they arrived, the whole process went very smoothly. The recipients at the Awards dinner were delighted with them,too.
Second to none
Fantastic tankard and a lovely presentation box
And second to none service from all
Thank you