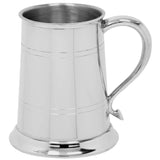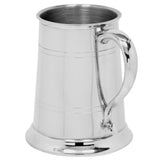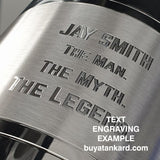 1 Pint Straight Swan Handle Tankard
Product Description
The handle on this tankard is both elegant and practical. As one happy customer said, it 'fits very nicely in the hand.' This is particularly important if you are going to use your tankard. As a regular pint drinking vessel, it is perfect as it is. However, if you plan to give this to someone as a commemorative gift, it's also beautifully plain for engraving. The double lines sit above and below any text and frame your message.
Some popular occasions include milestone birthdays, weddings, retirement, graduations and new jobs. A short engraved text is enough, with the name and the date. This makes a lasting treasure or trophy for the lucky owner.
And don't worry if you've almost forgotten the anniversary – we can get this to you fast, even with engraving.