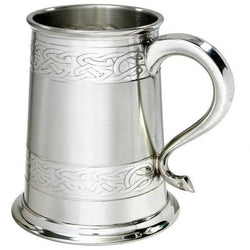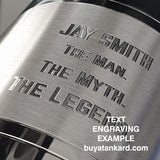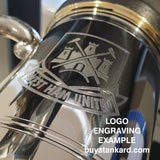 1 Pint Embossed Celtic Bands Pewter Tankard
Ships same day with engraving if ordered by 1pm FREE Standard UK Delivery
Product Description
Pewter is a traditional material for drinking vessels and knot work is a traditional Celtic design. This tankard is a perfect marriage of both features.
Pewter is a 'soft' metal and the pattern is embossed into the pewter from the inside, so that the knot work is raised on the outside of the tankard. This makes the design very distinct and you can follow the rope all around the tankard without ever reaching an end. This is the feature of Celtic rope work, without beginning and without end.
The handle is a curve with a flicked tail, which complements the Celtic design. There is enough design on this tankard to look interesting as it is, but there is also plenty of plain surface to add engraving. There are fonts with a fluid, curved style which look good with the rope work. You can preview your engraving to be sure that you like it before you order.
If you are not familiar with pewter as a material, you'll find our Information Centre pages a good source of knowledge. And remember, our delivery service is fantastic, even during the busiest periods of the year.
1 pint capacity

Made in the UK from lead-free pewter by renowned pewter manufacturers to the highest standards

Dimensions: Height: 115mm, Diameter (base): 115mm

Comes boxed with an optional presentation box

This tankard is made to an accurate size which allows it to carry an official government stamp for use in licensed premises. Additional costs and restrictions for this apply please contact us for further details.
SKU TK070 Weight 275g Dimensions (Approx) Height: 12cm, Width (inc. handle): 12.7cm, Diameter (Base): 10.6cm Capacity 1 Pint
Engraved with our computer controlled diamond tipped engraving machine

Good choice of fonts for text engraving, or supply your own in .ttf format

Personal logos can be engraved if you send us suitably clear graphics

Read full details on our Engraving Information page