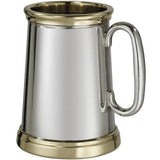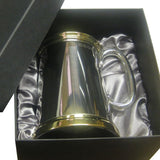 1 Pint X-Range Wortley Brass Trim Pewter Tankard
Ships same day with engraving if ordered by 1pm FREE Standard UK delivery
Product Description
Extra Heavy Wortley Tankard, 1 pint capacity "X" range tankard. The ulimate tankard from buyatankard.com. Extra heavy weight with brass trim to lip and base. Its plain body is perfect for your personal message or corporate logo.

Supplied in silk lined presentation box, no need to purchase separetely.

Tankard and Wooden Display Box
Sorry for the delay on replying. I was away. First of all, it arrived in perfect condition, and very fast. Considering the distance.
And most importantly, its exactly as I thought it would would be. I could not be happier with this. The only problem I have with it, is when I use it with company Everyone is wanting to use it , or try to take it. I can live with that.
Thank you very much, and will always keep you in mind , if ever the need arrives. .