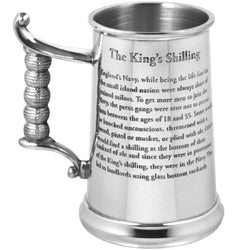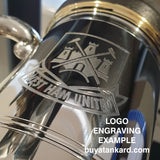 1+ Pint The King's Shilling Tankard
Ships same day with engraving if ordered by 1pm FREE Standard UK Delivery
Product Description
If you don't remember the era before decimalisation in the UK, you may not know that the value of a shilling in 'new' money is 5 pence. That wouldn't encourage you to join the Navy in the 21st century, would it? But back when this was the inducement to join, it was probably worth a week's wages.
Read the full story, engraved on this beautiful tankard, of how the press gangs duped men into joining the Navy. Learn how the landlords of dockside pubs started to have tankards made with a glass bottom so that their customers could relax and not worry about having a shilling slipped into their beer.
Remember that shillings were still in use during the reign of our current queen, and so your shilling may be a 'King's shilling' or a Queen's Shilling, depending on its age.
When you buy this tankard as a gift, you may want to have it engraved on the back to commemorate the date of the special occasion. A passing out parade is a perfect occasion, and you can have this tankard engraved and delivered in the UK the day after your order it – if you order before 1pm.
The tankard itself is made of heaving gauge pewter and holds a little over a pint. The handle is suitably sturdy to feel secure in your hand when you hold your favourite brew.
We regularly supply this tankard to ships and submarines of the Royal Navy.