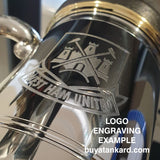 1 Pint Heavy Weight Georgian Pewter Tankard
Ships same day with engraving if ordered by 1pm FREE Standard UK Delivery
Product Description
1 pint heavy weight classic Georgian pewter tankard. Highly polished inside and out. Perfect for any special message to be added. Elegant Georgian handle and timeless design.

21st Gift
Very much appreciated by the recipient
Marked my Granddaughter's receiving MD degree.
My granddaughter has labored for, yea, these many years to achieve this MD degree. She was most pleased with the little momento.
Your company produced a remarkable item in which she is delighted.
Good work, all!
1 Pint Heavy Weight Georgian Pewter Tankard
"Excellent old fashioned service from telephone call to receipt of a wonderful product. This stands out as the best tankard I have ever purchased from a wonderful company. Would highly recommend."